Notice
Lectures at this course will be from school year 2022/23 carried out under the Chair of Electronics and Laboratory for integrated circuits design.
CONTENTS of course
Main aim of the course Analog integrated circuits and systems (AIVS) is demonstration of design tools and their features to students. Through the lectures different techniques and sample blocks are given and later on proven by simulations on real hands-on computer CAD software. The students learn how to design and characterize basic analog, digital and mixed signal circuit blocks used in majority of applications and systems. Each student must built specification of designed block and presents main findings to audience.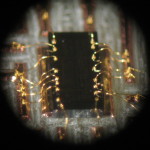 The contents of the course is divided in several chapters given in the student literature. The suggested literature for better understanding the topic is "Analog integrated circuits and system on chip" (the book is in Slovenian language).
STUDENT literature for lectures
Material for lectures 2015
Material for lectures 2016
Material for lectures 2017
LABORATORy tutorials
Material for laboratory tutorials 2015
Material for laboratory tutorials 2016
Material for laboratory tutorials 2017

Guidelines for server access and programs usage
Exams results
Intermediate exams
Written exams
Teachers
Professor : doc. dr. Aleksander Sešek